The Maximalism Trend
After several years of minimalist style interiors, there is a new trend emerging: maximalism. While we still love the clean aesthetic of minimalism, there is something less restricting about the maximalism trend which lets the designer or homeowner express themselves fully.
Inspired by the over embellished Victorian interiors and bohemian parlours, this is a modern take on these audacious spaces. It is not necessarily about overcrowding a space, but about being bold with colour, mixing and matching patterns, displaying what you love and not holding back on creativity. This creates an interior that is totally unique and packed full of personality.

Be Confident
If aspiring to nail the maximalist trend, confidence is key. It cannot be partially achieved so be bold, be loud and be daring with your decorating. Start by applying the patterned wallpaper that you love, your favourite vibrant colour of paint on the walls or a statement sofa.

Mix Textures
Play with different surfaces to add variety and depth. Juxtapose manmade materials with natural, rough with smooth, light with dark, and so on. Be sure to mix different styles too by drawing inspiration from different cultures or eras such as Art Deco.

Vibrancy
Maximalist interiors look amazing with a plethora of colour, even if they clash. However, stay away from using every colour of the rainbow. Start with base colours and build up using pops of colours that coordinate across the room so the space harmonises.

Layer
Just like any other style, if not considered cleverly it can look messy and misguided. Style items like rugs and large pieces of furniture with accessories, prints and artwork both modern and vintage to create a space that is curated, not cluttered.
Display your favourite collections and get creative with the pieces you love. The beauty of maximalist style is that there is no restriction or paring back, you are simply giving the interior personality.

Details
Maximalism is about moving away from sleek clean lines and towards highly decorative details. Have fun with layering heavy ornamentation and unique quirky pieces that catch the eye.
Lighting is a perfect place to start, whether you use a large sculptural piece as a focal point, or embellished table lamps for decoration. Animal figurines like birds make a beautiful statement in Maximalist spaces and look wonderful against bold prints or colours. Likewise, complete the look with wild house plants or flowers for that wow factor.
Shop the look
Embrace the maximalism trend at home with our selection of decorative pieces.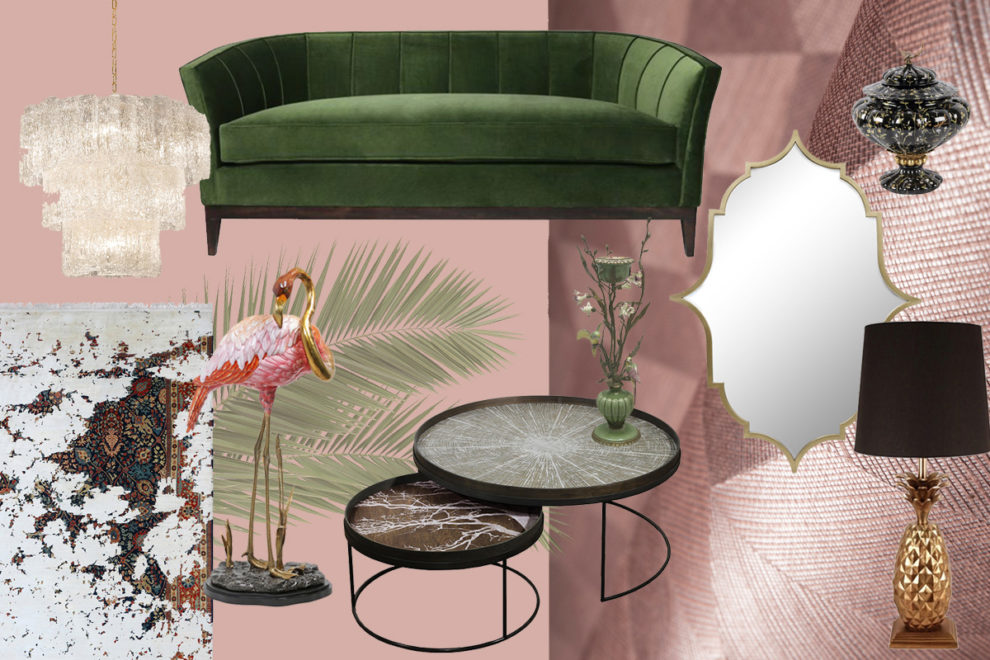 Clockwise from top left: Athena Chandelier, Lansbury Sofa, Black Pumpkin Canister, Enchant Mirror, Pineapple Lamp, Compas Tray Tables, Eden Candleholder, Flamboyant Flamingo, Oviya Rug.