With the festive season fast approaching, it is time to step up the home decoration game. Explore these four Christmas trends for interior design this season, useful for both Christmas gift shopping and giving the home a refresh for those Christmas celebrations.
Take inspiration from frosty winter mornings and a bit of festive sparkle this Christmas with elements of coral and crystal. Muted colours and serene but stunning natural materials create an elegant ethereal atmosphere.
Crystals are said to boost positivity and lift the mood in a room, making crystal accessories positively inspiring pieces. Use this trend to decorate the home for the festive season and beyond, or give a gift you know is totally unique due to the natural materials.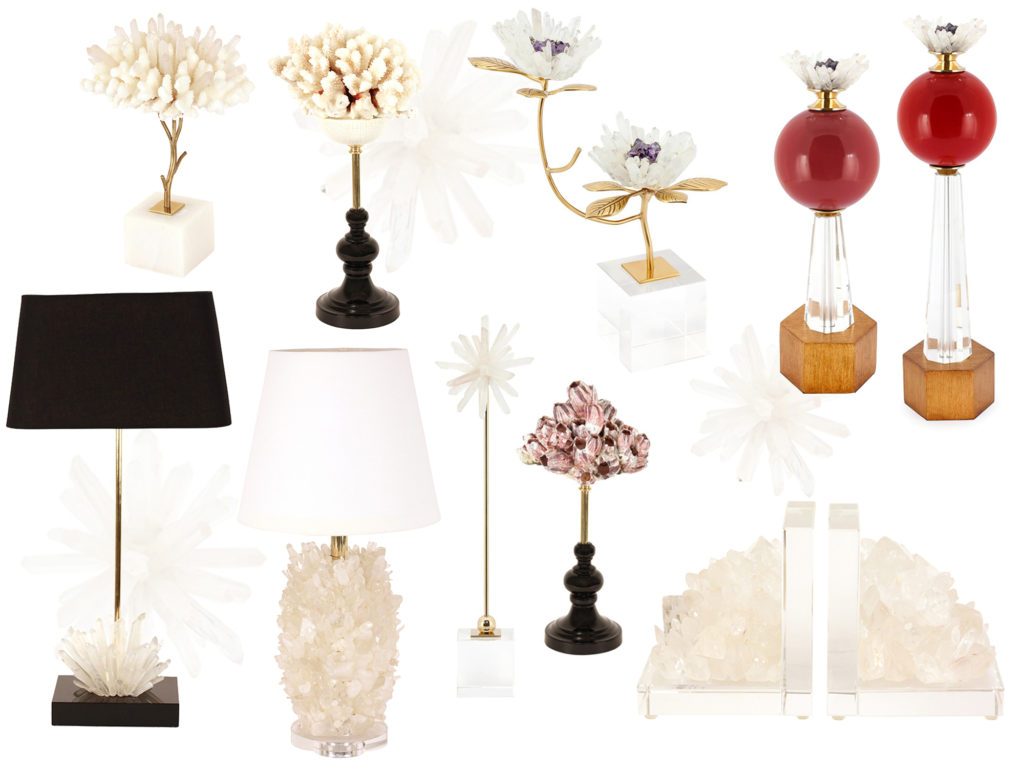 White Coral Tree with Crystal, White Coral Tree, Zia Flowers, Zia Obelisque Large and Small, Crystal Bookends, Sea Begonia Tree, Flower Obelisque Large and Small, Crystal Flower Lamp, Crystal Base Lamp.
Combine the crystal and coral with features of gold, rose and deep emerald colours to make them shine. Contrast rough surfaces with smooth, and opaque with transparent. This one-of-a-kind decoration brings elegance and a touch of majestic to any interior. Shop the trend here.

Extend that 2017 green obsession with rich, kaleidoscopic Malachite. The deep green colour is a bold addition to any interior. Vases, trays and jars have a mesmerising marbled effect inspired by the colours and textures of the malachite mineral.
Deep emerald colours and swirling patterns look beautiful and eye-catching. Use malachite vases to display beautiful blooms for Christmas, or as a timeless and special present. Shop the trend here.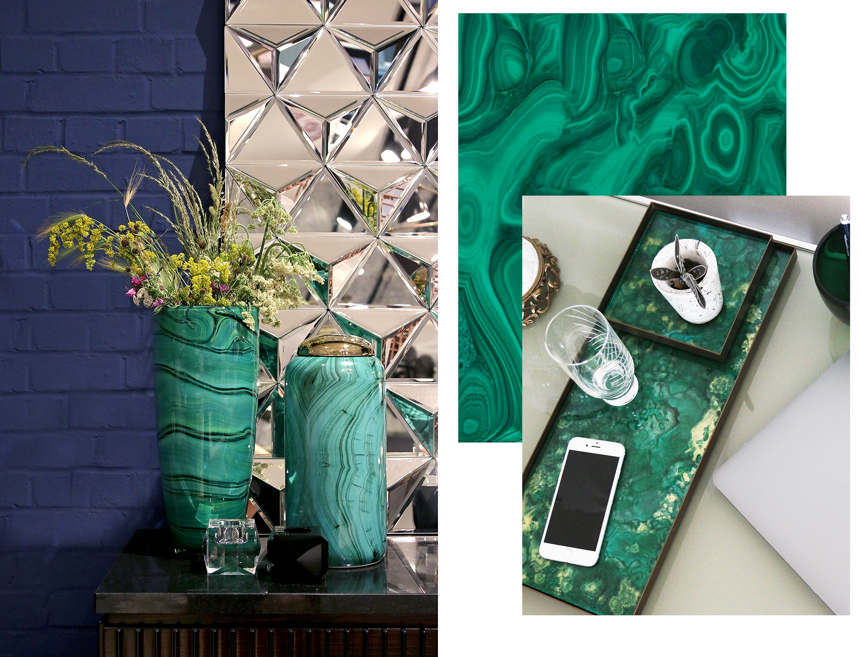 Elevate a vanity or bathroom counter with unique vessels guaranteed to draw attention. Enhance a vanity and capture jewellery in colourful and lustrous boxes with agate décor. Every box is completely unique due to the use of natural stones, and also taps into the mineral and crystal trend, making it a perfect Christmas gift.
Complete your vanity décor with a personal touch of elegance. The Mila Perfume Bottle transforms daily rituals into something beautiful yet individual when used to hold a favourite scent. Shop the trend here.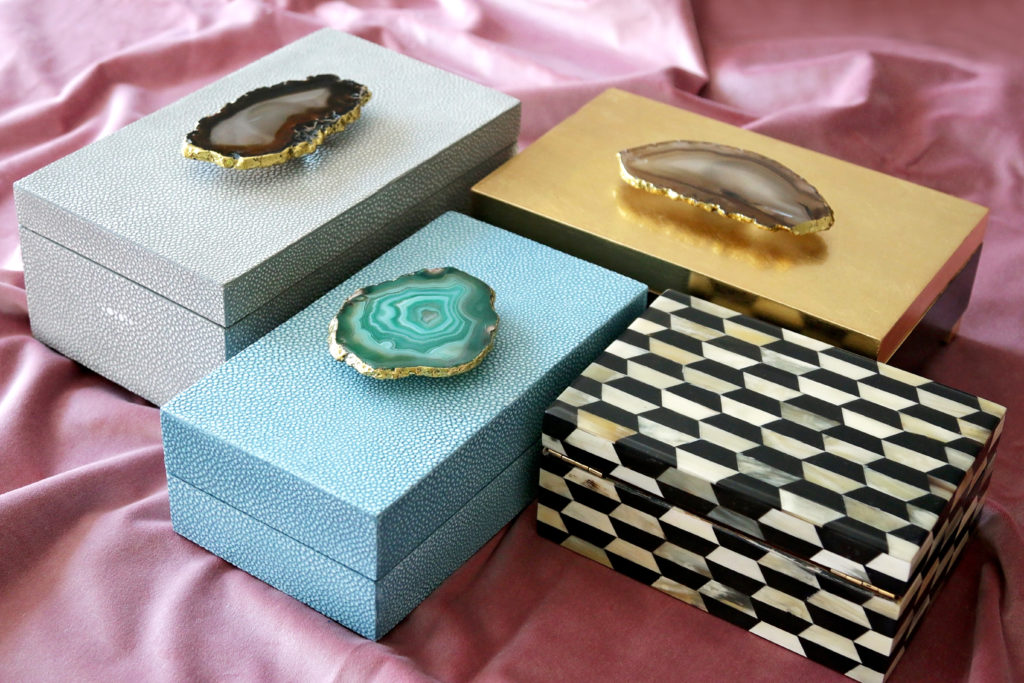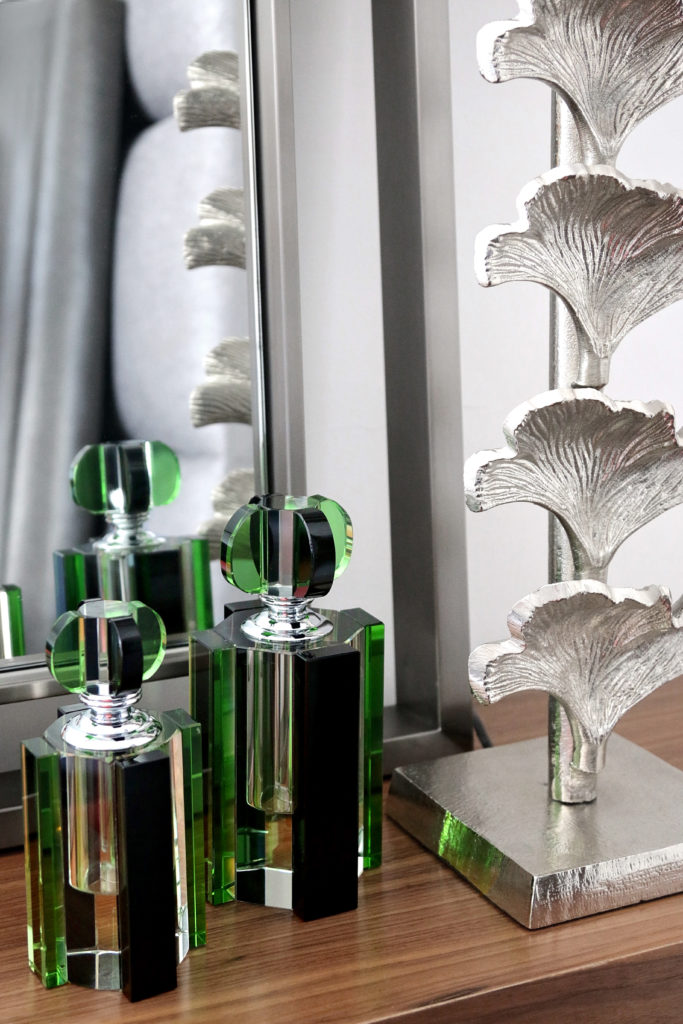 Let special elegance and splendour guide you this Christmas with modern shapes and futuristic designs. The colour palette ranges from strong pinks, colourful carrara marbles, and black and white contrasts.
Think surreal shaped vases and Space Age inspired furniture with a slightly 1950s retro twist. Acidic hues cut through soft pastels and monochrome. This is design that is sophisticated but still playful, with contrast between metal, glass and fabric. Shop the trend here.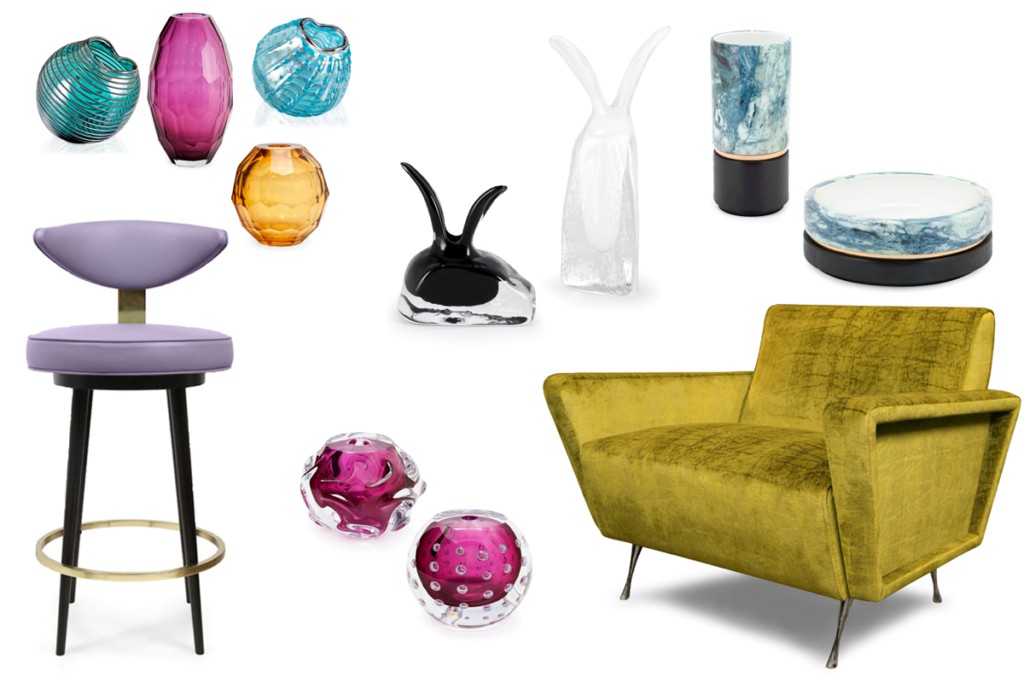 Jolie Bar Stool, Pomny Vase – Blue and  Stripes Green, Ruia Vase Tall Fuxia, Ruia Vase Ball Amber, Futte Vase Tall White and Low Black, Renka Cylinder – Small and Tall, Meryl Chair, Lysan Vase – Pink Bubble and Pink Rose.