With the clocks going back in the UK next week, we are looking for ways to embrace those dark evenings for the duration of winter. The Danish concept of Hygge hit the UK in a big way last winter, and we are excited to transform the home to revive this cosy idea. Although there is no direct translation, Hygge is all about being cosy, self-care and enjoying the simple things in life with loved ones. Here are some ways to introduce Hygge at home and into your life this season.
Soft Light
A simple flickering candle is essential to enjoying a Hygge moment. Denmark actually burns more candles than any other country in the world. Choose some beautiful tea-light holders that you can use repeatedly such as the Diamond Candlelights or Gold Tealight Set, and arrange around a space to give a beautiful and inviting glow. Alternatively, use table lamps that give a softer light than overhead lighting.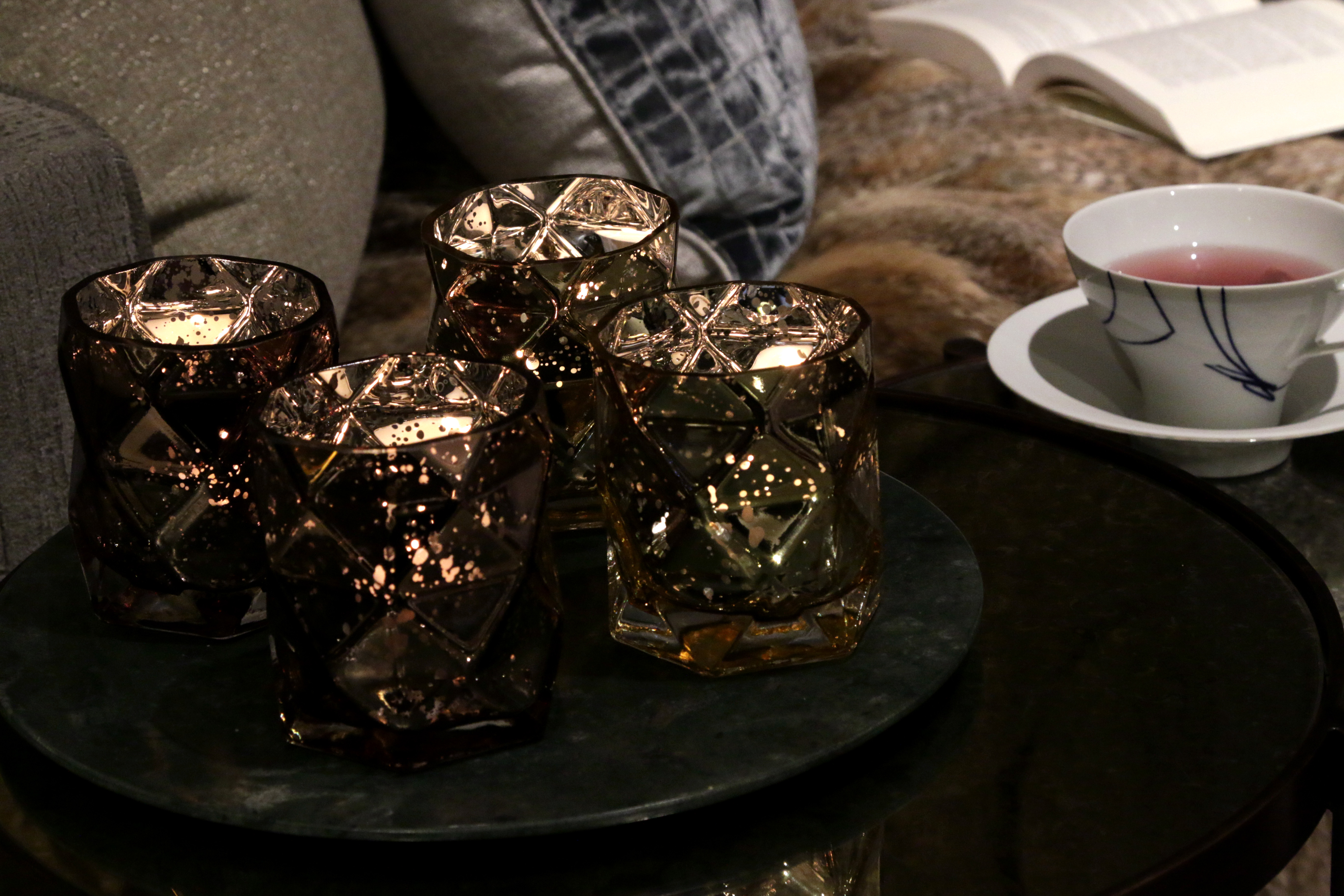 Comfort Food
Hygge is about indulgence but not extravagance, so keep cooking rustic, simple and warming. Invite friends over for a comforting stew or soup rather than an elaborate three-course dinner this winter. Enjoy a hearty bowl of porridge for breakfast, and smørrebrød (Danish open-faced rye sandwiches) as the perfect meal for weekday lunches. Try salmon gravlax with radish and lemon or a combination of blue cheese, pear and walnut. Take food back to basics and enjoy learning a new recipe at home.
Warmth and Texture
A big part of Hygge at home is creating a "hyggekrog" – a cosy nook or corner. Aim for a space that is calm and free from clutter with lots of texture. Add warm blanket like a faux fur throw for a real Scandi touch, and layer cushions in your favourite fabrics to create a comfortable spot in which to read or listen to music. Finally, light a fire (or failing that, add a hot water bottle) and invest in some beautiful lounge clothes that help you relax as soon as you arrive home.

Warming Drinks
Move over mulled wine, this winter is all about gløgg. Make your own using red wine, cinnamon, orange peel, cloves, raisins and a dash of whisky if you fancy a kick. It is the perfect drink to enjoy by the fire with friends.
Danes also love their coffee, and a Hygge moment can be as simple as taking time to enjoy your cup without any distractions in the morning. Coffee shop hopping with friends to find a café with the highest Hygge factor is a fun way to spend a Sunday morning.
Switching Off
Being present and switching off from fast paced life is central to Hygge. Enjoy the little moments such as a walk to work, a cup of coffee or a hot bath. Winter is the perfect time to get stuck into a new book or a craft such as knitting or baking. Hygge can be achieved on your own or shared with loved ones, so invite friends over for a glass of gløgg, light some candles and play some classic games at home.

Embrace nature
Hygge is all about balance, which means getting some fresh air whatever the weather outside. Go for a walk, face the elements and return to your Hygge haven afterwards. Bring the outdoors into the home with a log pile, a beautiful bowl of apples and an autumnal wreath for your door.
Denmark is well known for its devotion to bikes; in Copenhagen there are more bikes than people. So increase those endorphins and other feel-good brain chemicals with a little exercise.
Another way to enjoy the outdoors in the winter is with a cosy bonfire. Wrap up warm, bring a mug of hot chocolate and chat with friends around the warmth.
By transforming your home and slowing life down a little, those long dark evenings can be a pleasure this autumn and winter.