After the total solar eclipse in the USA last week, it seems that space is on the mind of many. Astronomy and star signs are becoming more of an interest, and perhaps it is uncertainty in our world that is making us look to the sky. Both science and the mystical inspire the designs for this trend, from gravity and planets to zodiac symbols and constellations. It takes a sophisticated and moody yet fun stance toward interior design. Continue reading to embrace the space trend for interior design and create a space that is simply heavenly.
Light and Dark
Think inky deep navy, purples and teals for a mysterious appeal. Add another dimension with metallic touches in gold, bronze and copper tones. Lustrous textures work perfectly for this trend, such as the luxurious Arte wallcoverings with high-gloss fabrics that include metal fibres.
Retro
Retro and Space Age inspired furniture from the mid twentieth century is back on trend, particularly for statement chairs.  The Jolie Bar Stool, with its metallic ring and Googie style seat is a playful yet sophisticated chair with stunning contrasts between materials. Alternatively, patterned fabrics in sheeny textures work beautifully.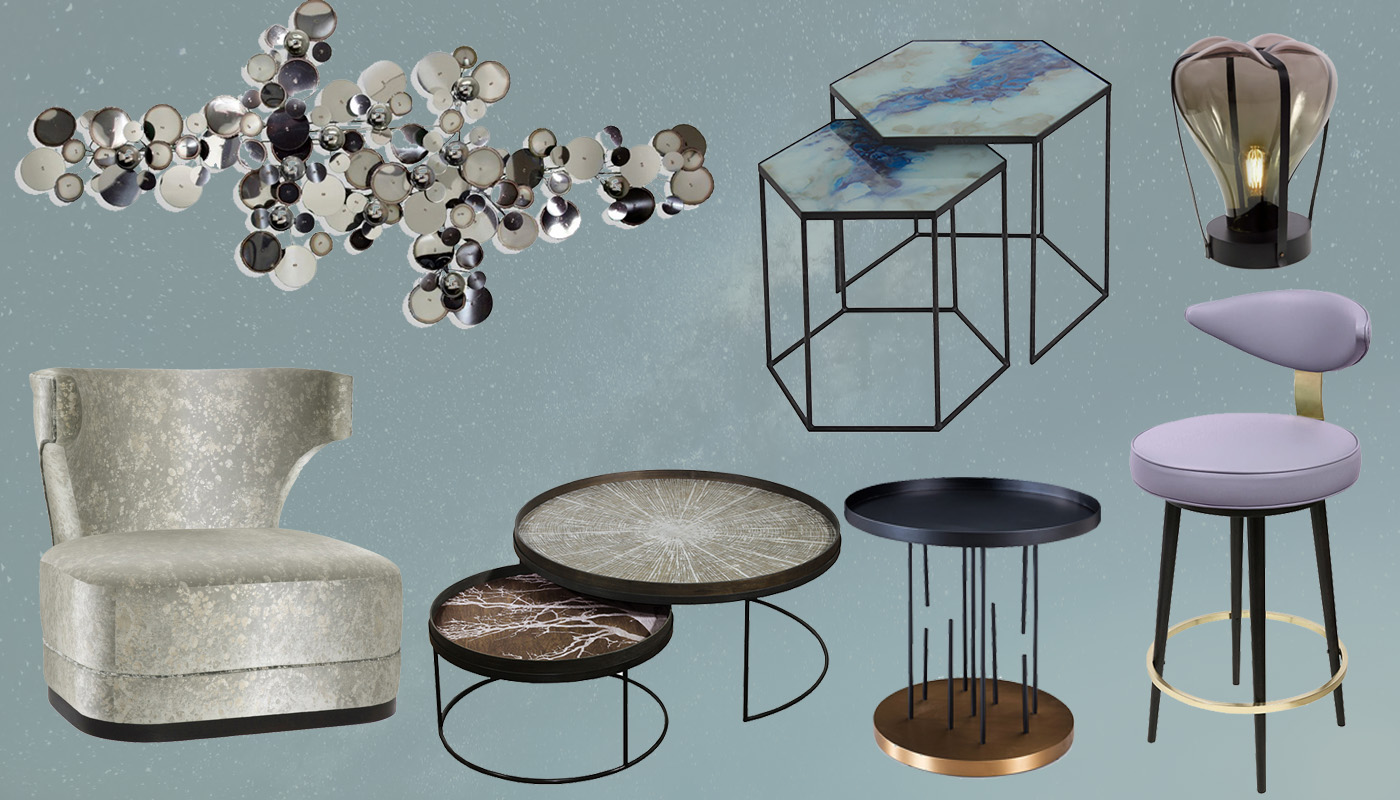 Balance and Gravity
Use your interior décor to play with the idea of gravity and balance to generate an element of surprise. The Teca Tables create the illusion of floating while the yellow brass with black surface combination creates a cosmic aura.
Astronomical Lighting
Lighting is a clear way to tap into the celestial trend. Make a statement with ceiling lighting and be inspired by planets, stars and constellations. A combination of cool glass and warm metallic materials create beautiful effects when lit up.

 Natural Surfaces and Textures
Moon-like textures, starry patterns and washy designs inspired by the milky way all make beautiful surfaces for walls, furniture and accessories. The Cobalt Mist Side Tables with galaxy inspired designs are stunning side tables to use together or separately in a living area. The Bronze Moonlight Discs resemble the craters and textures of the moon and make a metallic statement that radiates luxury.
Use these ideas to inspire your home, without needing to create an interior straight from a space movie. Whether you use a moody dark wallcovering in the bedroom paired with metallic touches or you add a gravity-defying lamp and milky way patterned table, this is one sophisticated and creative trend to embrace.