GUIDE TO THROWING A LUXURY WEDDING AT HOME
Hosting a wedding at home is a challenge but one that carries a personal and sentimental impression. Having your loved ones all together within your home is extremely special. It only takes a few unique and simple touches to transform your interior into a space fit for a luxurious wedding. Read our tips to turn your luxury wedding dreams into a reality, right on your doorstep.
1. Colour it in
Choose a theme or colour scheme and carry it through the event for a seamless look. This ties things together without needing too much extra thought. If lost for ideas, start with neutral tones and use the colours of your chosen flowers or perhaps any bridesmaids' dresses as a starting point for adding colour.
2. Blooming lovely
Double the use of bouquets after the ceremony by displaying them in beautiful vases. This instantly makes a simple arrangement seem more grand and it showcases the beautiful bouquets again. Place the vases on the cake table or use as centre pieces on the dining tables.

3. Serve it up
Serve canapes and drinks on beautiful trays when guests first arrive. This will make the food and aperitifs look even more impressive. Use trays to display drinks and a little floral posy to the side of the room, and let guests help themselves.
4. Get the glow
Candlelight is a simple way to bring a rich and romantic atmosphere to a sit-down dinner. Invest in beautiful candlesticks for maximum impact to the table décor and arrange candles of different heights in clusters along the table for a stunning glow.
5. Raise the bar 
Never let your guests go thirsty. Fill beautiful glass bottles with water and position them along the tables for self-serving. Create a home bar on a side table or bar cart with ice buckets for your guests so they know where to get their next drink.

6. The cream of the crop
Have an array of cakes on a table instead of one big wedding cake. A row of cake stands at different heights will take this to a new level, and you can never have too much cake.
7. Get creative 
Write place cards and table numbers in beautiful calligraphy if having a seating plan. The Pedra photo frame is an elegant way to display table numbers.
8. A little reflection
Considerately placed mirrors maximises your decoration and lighting for more effect. Hang mirrors at the end of the table to lengthen the surface and reflect the beautiful candlelight.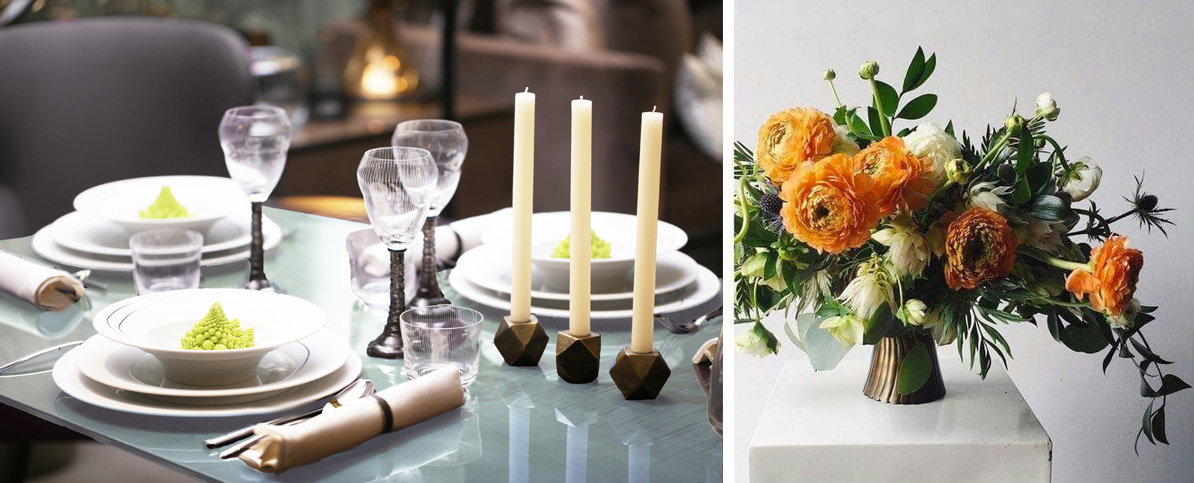 9. Get cosy 
If your party is extending to the garden, consider arranging cosy throws and cushions on your outdoor furniture for guests to keep warm as the night cools down
10. Love notes
Put out a guestbook for guests to write loving messages to the bride and groom. Another personal touch is to hand around polaroid cameras for the wedding party to snap photos throughout the party. After the event you will be left with an instant photo album full of special memories.
When throwing a luxury wedding at home, preparation and help are the fundamentals to a smooth-sailing party. Involve any willing friends or family in the lead-up or even a wedding planner for guidance. Predominantly, enjoy the planning!
Images 2 and 3 via Hering Berlin