Hello Spring
Spring and summer are the seasons to have fun with interior design. It is time to let some sunshine into your home and freshen things up after a long cold winter. Create a beautiful spring interior to welcome in the new season.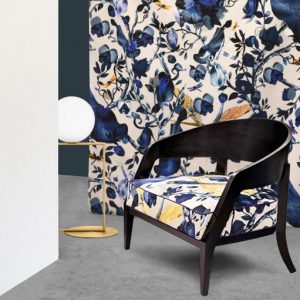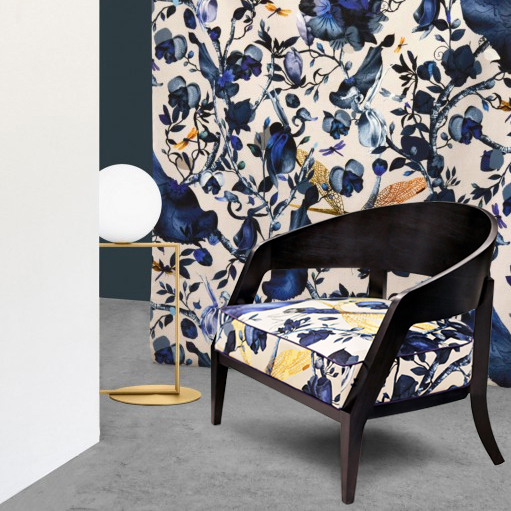 Use your furniture to make a statement by choosing a bright and beautiful fabric to channel Spring interior design. The London Essentials Miles Chair, with its botanical print, is perfect for adding exuberant style to the home for this season. Designed by talented textile designer Kit Miles, the Biophillia pattern is a stunning repeat of dragonflies, flowers and dreamlike plants – the epitome of bold spring design. Any London Essentials' furniture can be upholstered in the fabric of your choice, so the options are endless. This season, do not be afraid to cover an entire sofa in a lively pattern or sunny colour.

Bring the Outdoors In
Bring flora and fauna into the home without needing to be green fingered. The Eden porcelain range's intricate bird and flower brass details exude Spring and make elegant dinner party accessories. Pile the Eden Plate with fruit and place on a coffee table for instant colour and a fresh look. Alternatively, our Dragonfly Planters are perfect for enthusiastic gardeners to bring their favourite plants or flowers inside. A delicate brass dragonfly and brass feet make this an elegant way to bring greenery into the home. Available in black, white or floral.

Look Further Afield
Introduce the feeling of an idyllic Moroccan getaway with a beautiful rug. With light colours and a laid-back look, Moroccan rugs brighten up any room as well as keeping it soft and luxurious underfoot. Use the Nadi Rug for fresh blue and white ocean tones or the Paran Rug for stunning simple geometric patterns to a relaxed feel. Use this time of year as an excuse to remove your wall-to-wall carpet. Instead try layering rugs for a more modern look that enables you to refresh your style each season.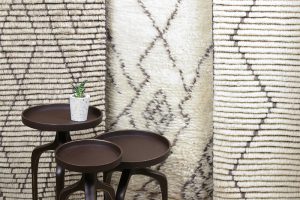 The London Essentials new range of trays make gorgeous additions to a home, from displaying accessories to carrying summer drinks onto the terrace. Inspired by exotic tiles reminiscent of relaxing holidays and natural textures such as marble, these trays make perfect summer and spring interior decorations.

Time to Reflect
If you lack space, mirrors are a beautiful way to give the illusion of a larger room. Mirrors expand a room while reflecting light and brightening up a space. The new Elsi mirrors are works of art with their vintage style texture and on-trend circular shape. Hang the Elsi mirror in the hallway, living area or bathroom to create space and light. These mirrors look stunning both hung alone or in a group of three.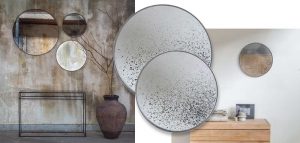 Finally, scatter cushions are a simple way to completely change the look of your sofa or bed. Look for light and natural fabrics for a serene summer and spring interior vibe. Fabrics with a metallic weave are also a playful yet sophisticated touch for spring and summer. Many of London Essentials' cushions are limited edition so check back regularly for new styles. There is also the option to create your own bespoke cushions, using any fabric you desire. Simply get in contact with the London Essentials interior designers to discuss your ideas.
With a few simple updates, the home feels like a fresh new space that you may not wish to get away from this summer.