More of the population is working from home than ever before and yet designing a home office space is not often approached from a productivity point of view. Take the time to consider each aspect of your working environment and watch your efficiency soar.
Colour Mood
You may wish to take notice of the colours you introduce into your working environment. This often depends on your profession. Yellow is known for its stimulation of creativity and positivity, perfect for a designer. Blue is ideal for focusing on mentally straining tasks because it represents logic and intellect. Finally, green is another popular colour for its balancing and restoring effects. It is also easy on the eyes for long hours at a time. Introduce these tones through a painted wall, furniture or more subtly through accessories.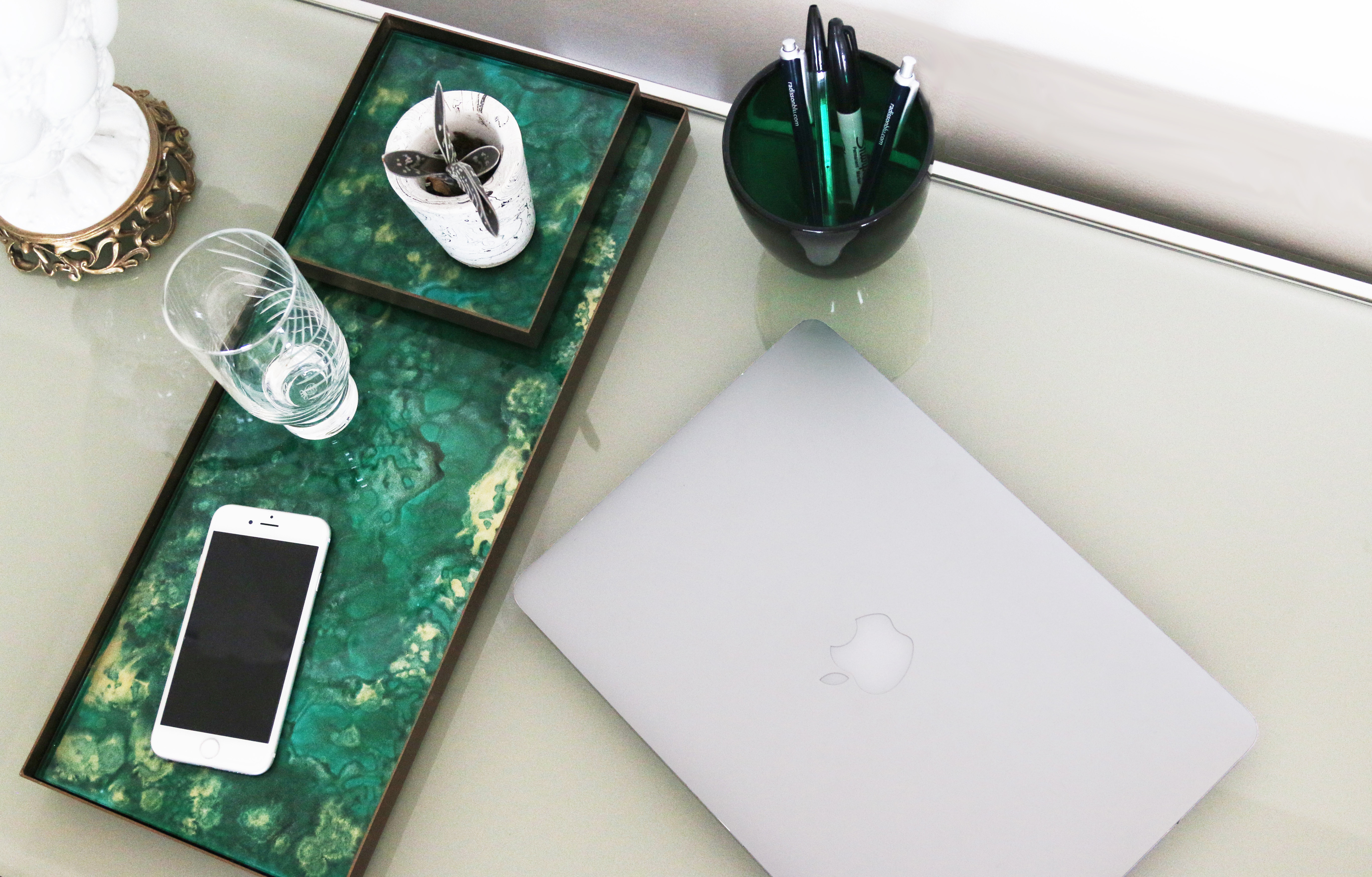 Practical Storage
Providing plenty of storage when designing a home office contributes to keeping a tidy desk and therefore a clearer mind for work. A sideboard neatly stows away files and a large set of shelves is useful for books, boxes and décor. Browse the London Essentials case goods to source a piece of storage to work with your own office. On the desk, use a tray to group objects together for a styled look, and an attractive jar to store small items of stationery.
A Comfortable and Stylish Chair
As you are probably spending a lot of time sitting at a desk, ensure the chair is both supportive as well as attractive. A high back, deep seat, padding and a gentle recline helps with posture. In addition, a chair with movement like a swivel base on wheels allows seamless working. The Neeson Chair and Ksenia Chair tick all of these boxes, the hardest part is choosing your bespoke fabric and finishes to add your individual style to the interior.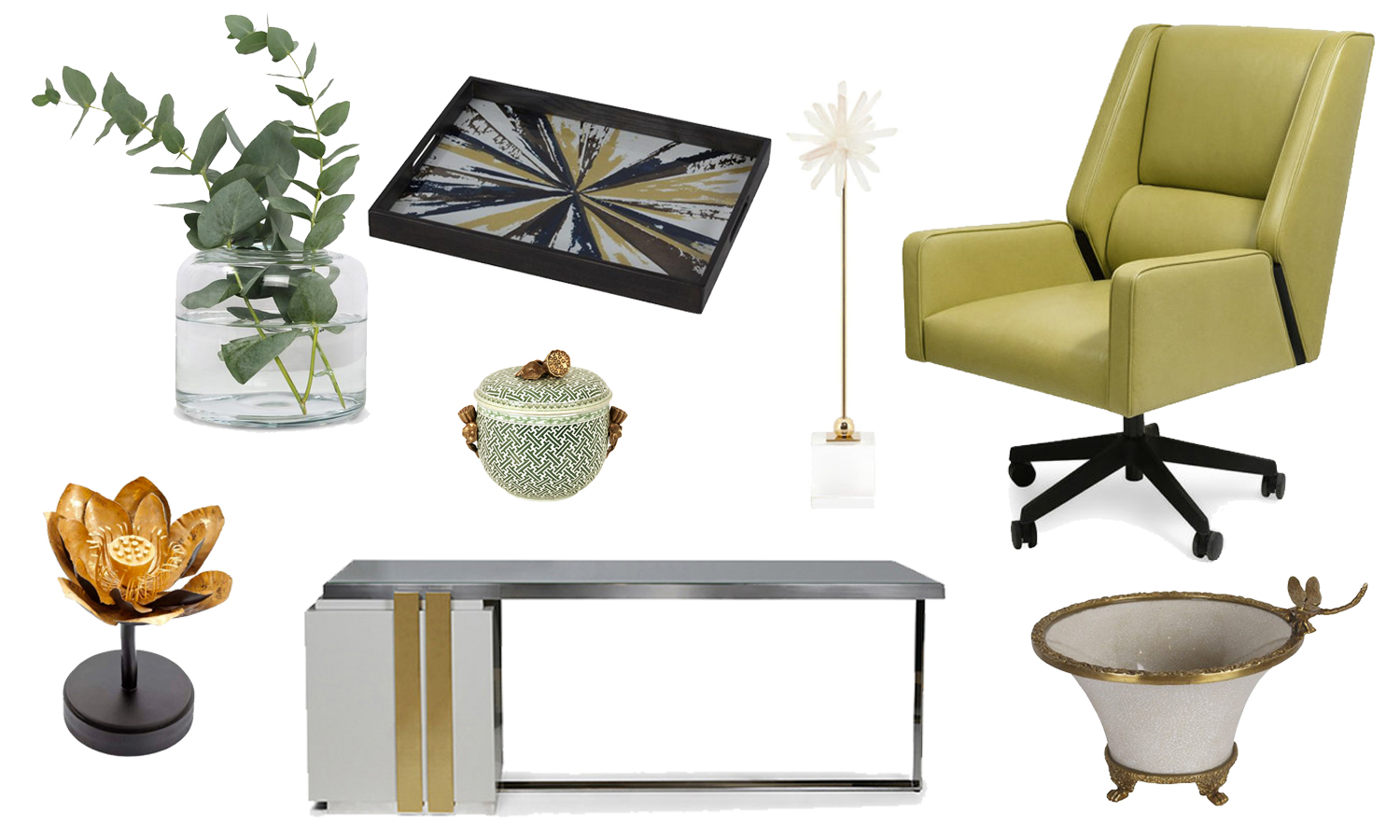 Clockwise from top left: Chubby Glass Vase, Scion Tray. Cusco Canister, Flower Obelisque. Neeson Chair, Dragonfly Planter, Princeton Console, Lotus Flower.
Add Personality with Creative Touches
A space that appeals to your personal taste and sparks interest drives a more productive workday. Add plants to freshen the environment, framed photos of loved ones and beautiful ornaments like the Lotus Flower or Flower Obelisque. Additionally, objects which are both practical and striking like the Crystal Bookends make perfect use of space, and the white crystal adds peace and calm.
Lighting
Natural light is always best, especially if you have a beautiful view to gaze at because it gives your eyes a break from the computer screen. Otherwise, consider a task light or ambient lighting for your desk to create a focused mood. The Tivy Lamp is a quaint lamp for a classic office, the Hurricane Table Lamp is an architectural masterpiece for a contemporary desk or the Oriental Figurine Lamp brings a moment of zen to your working day.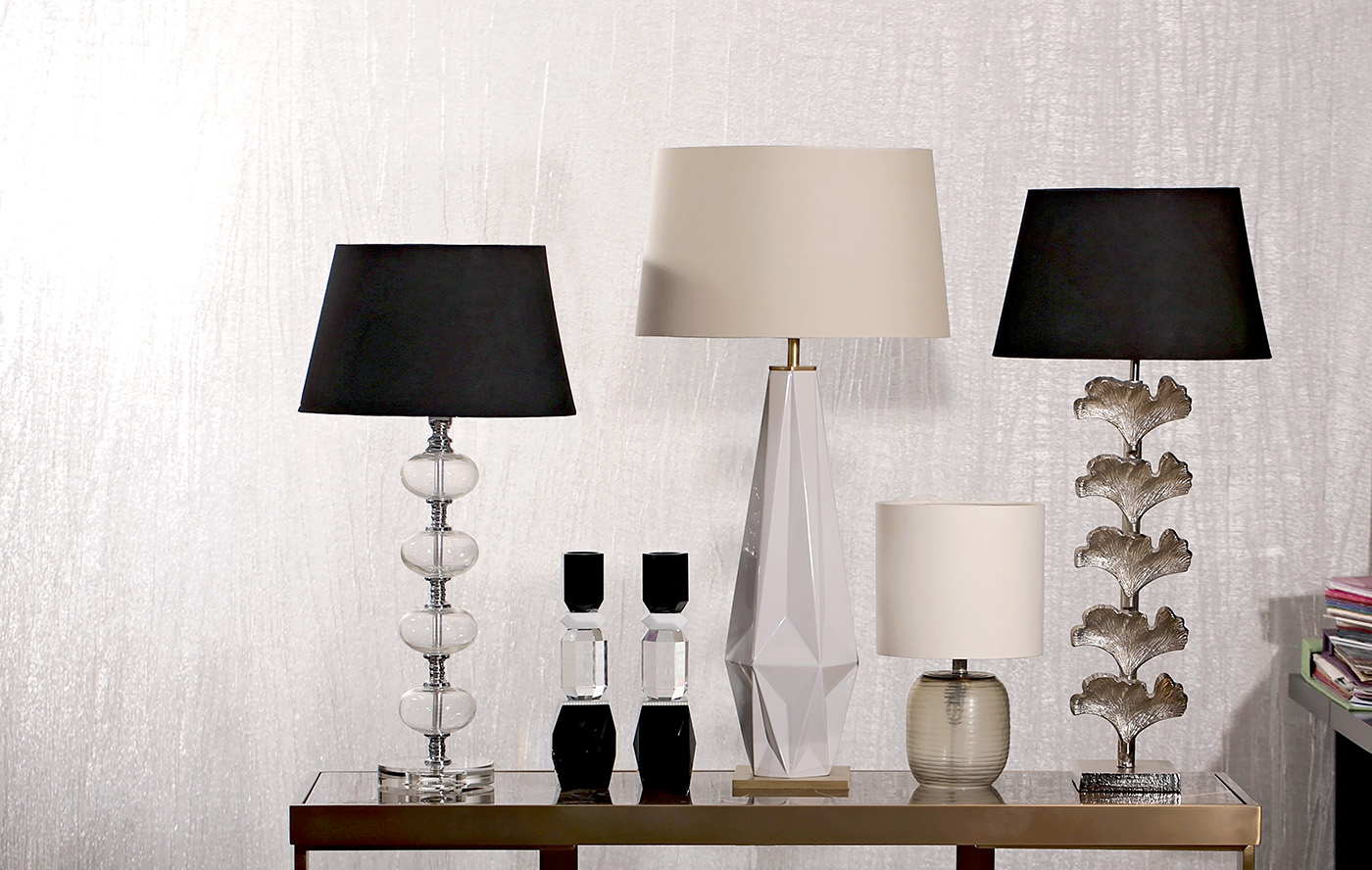 Designing a home office to increase productivity is so vital, since so many hours of the day are spent here. It should be an environment that keeps you balanced and inspired throughout the day. Putting your own personal spin on the décor means more enjoyment and motivation for getting down to work.